Software Solutions for Managing Multiple Eye Care Clinics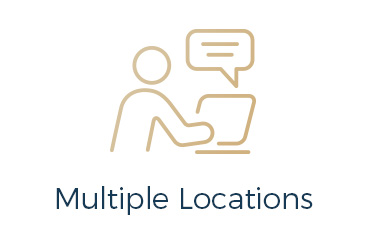 Clinics with multiple locations face a unique set of challenges. In order to maximize productivity and improve patient flow, why not manage all practices centrally with a single system.
Visual-Eyes was designed from its inception to support multiple offices. With its location identifier system, it is easy to separate each practice as needed to run its business unit while still allowing management to compare multiple locations.

All offices have access to the full database of patient information, including all patient files and history, regardless of where that patient had their last exam. With data sharing, you can simplify communication between locations and improve overall productivity.
Options for Centrally Managing Multiple Locations
Replication
In a replicated environment, each location maintains a dedicated server on-site, which communicates with a master server to control data flow between locations. As data is changed at one location, those changes will be automatically transferred to all other locations throughout the day.
Each replicated clinic additionally functions as a backup for the other locations, as all changes made at one office update to all other offices. Each practice is fully equipped with a database covering all of your locations.
This option can be an effective choice for mobile clinics. Once a mobile server returns to the main office or even an internet accessible location, all necessary updates will be made automatically.
Central Server
With a central server, all locations operate off of a single database, either hosted on-site at your main location or offsite on one of our hosted cloud servers. This option may be helpful in saving space and reducing hardware costs. Use of a central server works best when all locations operate on a stable internet location, though linking speed will vary depending on image requirements.
Trusted by 400+ clinics across Canada
Click to see what they have to say about us!
One stop shopping – Visual-Eyes does everything to organize our client information and process our jobs for the lab. Customer Service is amazing! Your technical staff always find a solution or fix our issues quickly.
Melanie Elmslie, Office Manager
Just 4 Eyes Inc.
The biggest advantages of Visual-Eyes are the continued reliability, the user-friendly interface, and efficiency within the exam module. We benefit from consistency among our ODs on exam charting, practice statistics, administration, and invoicing; all within one system. Visual-Eyes has integrated all aspects of patient care and practice management for our office.
Dr. Lisa Scharf
Armstrong Optometry
I've tried a couple other EMR systems at other clinics and VE is the easiest and most straight forward to use.
Sarah Freiburger
Eye Q Optometry
Visual-Eyes is essential to my practice – I couldn't practice without it! Very user friendly.
Dr. Courtney Kennedy
Kennedy Eye Clinic