Everyone would like more efficiency at the office. An effective electronic medical records / electronic health records (EMR / EHR) software will help you save time and get back to what you do best—taking care of your patients.
What should you look for in an EMR software? Many people would say ease of use and of course, the product should be user-friendly. However, there is so much more to consider when making a major purchase for your practice.
Read on to explore some of the features you should look for when selecting an electronic medical records software.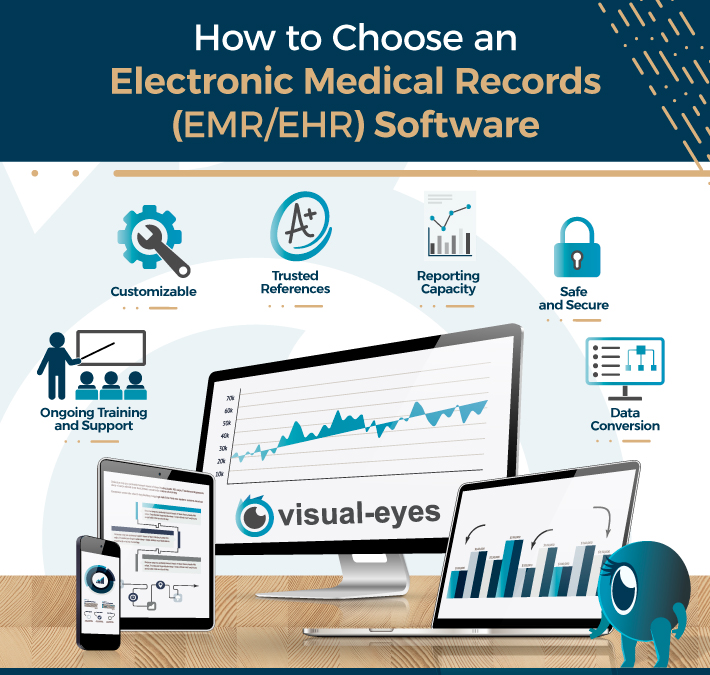 Ongoing Training & Support
While it might seem like you are just investing in software, you are also investing in the people on the other end of that software. Make sure they are committed to your success through training.
The initial setup of new software in your clinic can be stressful for your staff, and often, there is a steep learning curve. You should never be on your own when it comes to training your office.
The best EMR software comes with a whole team of experts who are ready to help you at a moment's notice.
Your training team should also be able to ensure your practice is well-equipped for its new addition. They should recommend upgrades if necessary, based on assessing your current hardware and network infrastructure.
Training should not stop at the implementation phase either. It is important that you know who to call in case you have ongoing training or support needs. For example, new staff will need to learn the tools, or you might need assistance adding a new feature or accessing a report.
An accessible support team is a must. The answer to a question or the solution to a problem should never be more than a phone call or email away. Ideally, 24/7 emergency support should be available.
Customizable
Every practice is different and you know your needs best. Virtually all aspects of your software should be customizable for your unique situation.
Whether your office is new and just starting out, or you have complex, multi-location needs, your electronic medical records software should be built to suit you.
Here are just a few of the items that you should be able to tailor to your practice:
Referral letters
Drop-down menus for data entry
Exam layout
Appointment types
Appointment reminders
Patient printouts
Total Office Integration
Your electronic medical records software should integrate seamlessly into your entire practice. From invoicing tools like auto-prompts, split payments, and deposits on account, to inter-office messaging functionality, your software should be an extension of your team.
For a true total office integration, here are some features your software should have:
Integrating with provincial electronic healthcare billing systems
Product inventory to keep track of your sales and stock
At-home appointment booking options for patients
Patient recall through automated emails or text messages
Satisfaction surveys sent to patients post-appointment
Reports, images, and test results a click away
Auto-pricing of items based on supplier costs
Importing results directly from testing equipment
Make sure your software can grow with you too. If you are planning to open multiple locations, your software should be capable of integrating seamlessly into your expansion.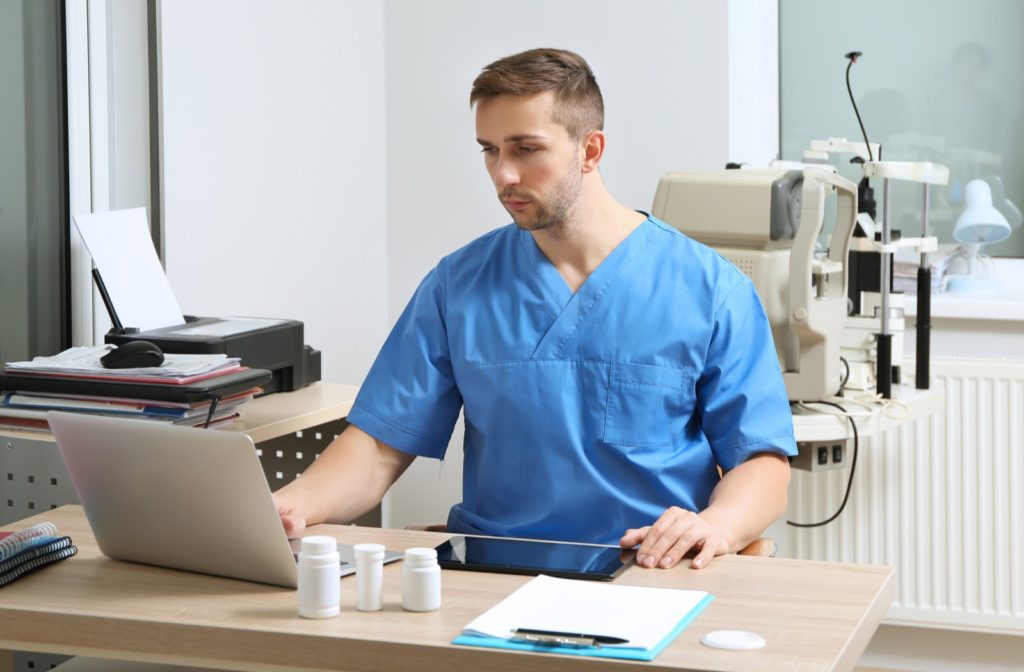 Reporting Capacity
Electronic medical records software should have advanced reporting capabilities. Accessing all the data you need, when you need it, is important.
Whether you require a report for your current inventory, sales information, to better identify health risks to your patients, or to use KPIs to grow your practice, you should not have to spend hours looking for what you need.
The best electronic medical records software will put patient information and data sets at your fingertips—and quickly.
Safe & Secure
It is important to keep patient data secure. Your patients trust you with their private medical information. The company you select to provide your electronic medical records software should value patient privacy too.
Data Conversion
If you are already using an electronic medical records software, you should be able to make a seamless switch. The new software should have the capacity for data conversion to avoid disruption to the patient experience.
Your clinic will need to function at its best, even during a transition, so make sure there is a team available to assist with the data conversion process.
Trusted References
Doing your research is important when it comes to any big purchase. When searching for the perfect electronic medical records software, look into what other clinics and practices use. Ask your colleagues in the industry for references.
A reputable company should also be able to provide you with testimonials from other satisfied users.
Seamless Efficiency
Electronic medical records software is supposed to make your clinic run more efficiently. But, not all software is created equal. Look for the system that will allow you to give the very best to your patients.