The optometry industry is embracing the power of technology to help enhance the level of care provided to patients. Your dedication to delivering personalized and attentive care is paramount, and modern optometry software solutions often form the foundation of streamlined, positive patient experiences.
Visual-Eyes is a comprehensive software solution meticulously designed for optometrists, ophthalmologists, and opticians. It serves as a robust platform that can provide a holistic view of each patient's history and current status through electronic records, so you can provide care tailored to their unique needs.
Some of the benefits of choosing to go paperless with Visual-Eyes Software include:
Convenient access to patient files and records
File linking to store other documents, such as referral letters, images, insurance documents, and other diagnostic reports
Smooth processes for submitting claims
Opportunities to improve and facilitate patient flow during visits with digital reminders and notes
A tailored, modern approach to patient care can create outstanding patient experiences, especially when pared with a software created with your team's needs in mind.
How to Get Started with Electronic Records
Choosing Software for Your Practice
The importance of using software specifically designed for your needs cannot be overstated. This is not just about digitizing processes—it is about enhancing patient experiences by making your operations more efficient.
The tailored solutions we offer at Visual-Eyes Software are created based on our experience and understanding of the unique workflows that drive optometry practices. With customizable features and the ability to adapt to your practice's requirements, we can create a seamless integration with your existing systems and processes.
From streamlining patient records to facilitating efficient claim submissions, we strive to cater to every aspect of your practice.
The Process of Implementing Practice Management Software
The initial implementation process for Visual-Eyes Software is designed to ensure all patient data is meticulously transferred with accuracy and completeness, so your practice can continue to function without interruption.
Part of what sets Visual-Eyes apart is our comprehensive training. We offer both self-paced and in-person training to help your team to learn the system at their own pace, in a way that suits their learning style.
Our goal is to equip each member of your team with the skills they need to leverage the software effectively to meet your patients' needs.
Customer support is another crucial element in the implementation process. Our dedicated support team is always on standby to assist you throughout the implementation process—and beyond.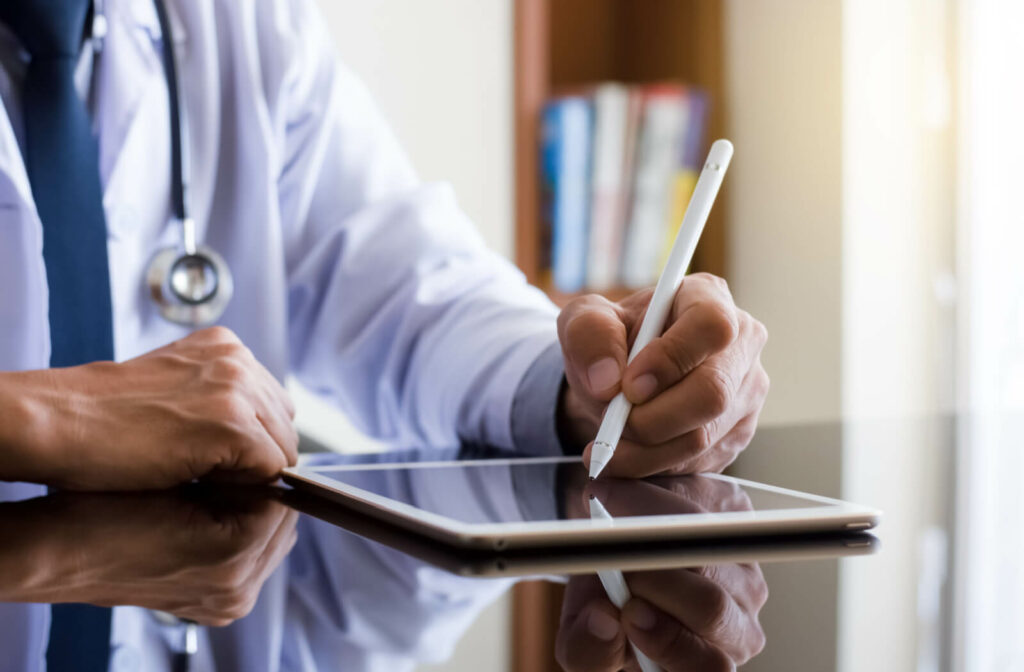 The Benefits of Electronic Records
Digital Patient Records
Digital patient records can play a pivotal role in enhancing several aspects of your practice.
Firstly, digital records help simplify the process of locating, reviewing, and updating important patient documents. Gone are the days of sifting through piles of paper files or searching for misplaced documents. With a few simple clicks, you can access the information you need when you need it.
Transitioning to digital records can also liberate your practice from the constraints of physical storage—not only saving valuable office space but also reducing the risk of damage or loss of critical patient information.
Visual-Eyes Software can also provide intuitive options for tracking the status of your patient files. With its user-friendly interface, you can monitor patient data trends with ease. For instance, you can quickly see changes in eye pressure, corneal shape, and refractive errors over time, enabling swift intervention and personalized care.
File Linking
Imagine having all relevant documents for a specific patient grouped together in one place—that is precisely what file linking does. No more toggling between different files or systems. Instead, you have a streamlined, unified view of each patient's information that can save time and reduce the risk of overlooking critical details.
Visual-Eyes extends this feature to include external files such as specialist reports, older records, and external prescriptions. These can be conveniently linked with patient records, giving you easy access to information when you need it.
Digital Claims Submissions
Electronic files can make it easy to submit claims seamlessly through online portals, eliminating unnecessary administrative tasks and freeing up your team to focus on delivering top-tier patient care.
Visual-Eyes Software takes this efficiency a step further with its Telus Health integration, which can help you submit claims directly to insurers. Insurance amounts are allocated properly and predeterminations and authorizations are automatically linked, providing an organized, easily accessible view of each patient's information.
Moreover, Visual-Eyes enables the collection of insurance information and patient authorizations directly. Features like Visual Forms help simplify the claims submission process by making it possible to capture all necessary information, including signatures and keep it readily available.
With over 25 years of experience serving the Canadian optometry market, Visual-Eyes has extensive knowledge about each province's specific billing requirements. We can help your practice remain compliant with regional regulations while optimizing your claims submission process.
Improved Patient Experiences
In the realm of healthcare, particularly optometry, efficient office operations can significantly enhance a patient's experience.
Digital reminders and tasks attached to electronic patient files help ensure all necessary steps are taken in patient care, and nothing is overlooked. Messaging systems can significantly improve internal communication before, during, and after patient appointments.
Our routing module can track patients as they move through your practice during their visit, so you can further enhance efficiency and patient experiences. This system provides real-time updates on a patient's status to help you manage workflow and ensure each patient is attended to promptly.
Explore Your Options with Visual-Eyes Software
Visual-Eyes Software brings together all the features we have discussed—from digital reminders and tasks to messaging systems and routing systems—into one comprehensive solution. This software is uniquely tailored to meet the specific needs of your practice and your patients.
But the benefits do not stop there. Customizable features and forms that align with your workflow help tailor the software to fit your practice, so there is no need to worry about how to adapt to new changes.With Visual-Eyes, you are not just choosing new software—you are embracing a tool that can empower you to deliver exceptional patient care. Book a demo now to discover the difference Visual-Eyes Software can make for your practice.