Ensuring your practice is an efficient workplace is an ongoing process that can be difficult to achieve without the proper support. With the evolution of practice management software, office efficiency has come a long way.
Visual-Eyes Software offers an innovative system that can adapt to the needs of your practice, helping you streamline your office operations, monitor staff workflow, and identify areas of opportunity to improve your business. With the help of our customizable software, you and your staff can utilize time more effectively to better focus on the patient experience.
Improve Efficiency at the Reception Desk
The patient experience often begins at the reception desk. Ensuring your staff has all the tools to succeed in creating a memorable first impression is essential.
The Visual-Eyes suite of software is thoughtfully designed to offer solutions that are easy to use, reliable, and can be seamlessly integrated with one another. With effective software solutions, you can reduce operational inefficiencies, and focus on what is most important: your patients.
Our software modules are customizable to your practice, and you can add as many or as few as you need to operate.
Base Module: Organize and Maintain your Patient Base
With the Visual-Eyes Software base module, your practice can benefit from:
Family groups that allow you to quickly access any member of a family for a more streamlined experience
Comprehensive record keeping with summary tabs which provides easy access to key patient data
Provincial billing with specific tracking for outstanding claims and paid claims, making staying on top of corrections a breeze
Invoicing Module: Make Accounting Simple
The Visual-Eyes Software invoicing module makes accounting easier for every one of your staff members. With simplified patient invoicing, streamlined third-party insurance processes, and financial tracking, your staff can spend less time worrying about payments, and more time focused on your patients.
Scheduler Module: Fill Your Schedule Automatically
The Visual-Eyes scheduler module helps keep your schedule full, without hassle. With this module, your practice can benefit from:
One-step booking for current and new patients
Automatic patient communication via email and text message, including appointment reminders and follow-ups
A system that tracks patient recalls, checks Ontario health card validation, and provides an integrated waiting list to maximize productivity
Customizable appointment types and statuses giving your schedule the flexibility to practice your way
Multiple bookings to streamline a series of appointments for Dry Eye and Vision Therapy practices
Streamline the Exam Lane
The next step is the patient-doctor experience; the Visual-Eyes system gives you access to all the information you need, right at your fingertips.
With the help of software systems like the Visual-Eyes examination module, you can:
Easily navigate and customize EMR exam layouts
Access relevant historical data to make it easy to spot important changes and trends
Complete data entry with ease using customizable dropdown options
After the exam, the dispensing module and contact lens module can further support your doctors and staff by offering:
Lab order management and integration with easy access to the status and timelines of orders
Prescription importing with an extensive catalogue
Seamless ordering, tracking and reporting
Improve Your Efficiency with Integration
Visual-Eyes modules are designed to compliment one another to better streamline management and operations, support doctors and staff, and provide your practice with customized solutions tailored to your specific needs.
By combining multiple modules, you can improve your office efficiency every step of the way, so your staff's focus is always on the patient.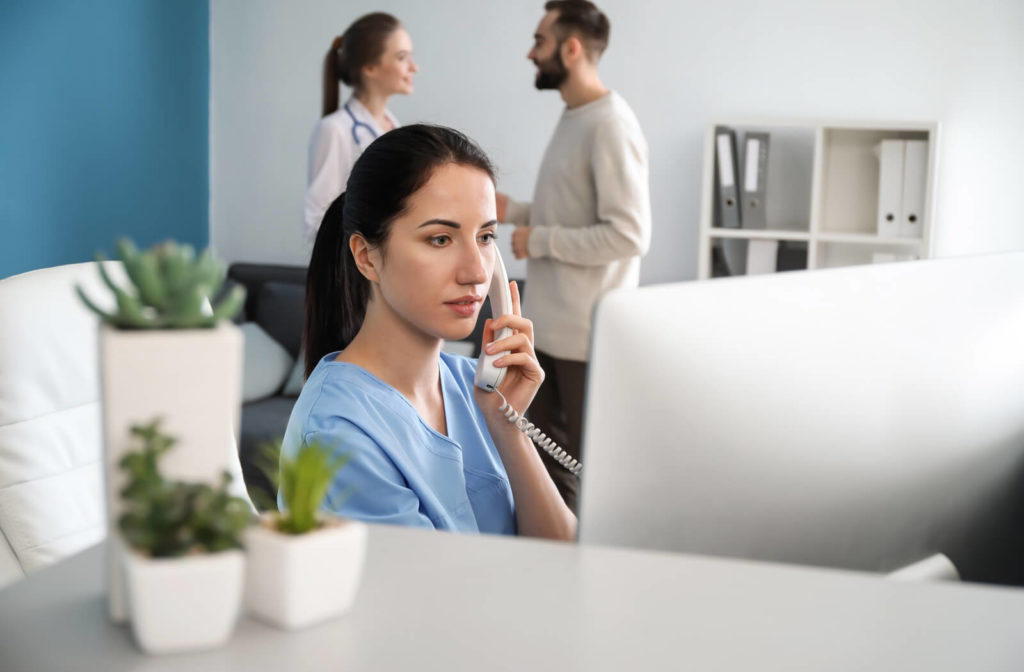 Benefit From Unique Reporting
No matter which modules your practice uses, Visual-Eyes Software can pull data from each one to create reports to easily track inefficiencies. With an abundance of data, you can make informed decisions to improve your practice.
Our expert support team is always available to assist you with understanding and creating reports suited to your specific needs.
Customize Visual-Eyes Software to Meet Your Practice Needs
Visual-Eyes Software allows you to practice your way. With the help of our experienced team, our highly customizable software allows you to build a system that works for you, with the option of adding or removing modules as you see fit. We are here to coach you, so your practice gets the maximum value from your software. Book a demo to see how your practice can increase efficiency with the help of Visual-Eyes Software.