While no-shows can feel like an inevitable part of providing health care, there are plenty of actions you can take to prevent patients from missing or forgetting about their eye care appointments.
From tweaking the patient experience in your eye care practice, to instituting our convenient and efficient Visual-Eyes software for bookings and reminders, here are the practical steps you can take to reduce no-shows.
Why Do Patients Miss Eye Care Appointments?
Just as their reasons for scheduling an appointment are unique, a patient's reasons for missing an appointment can be varied. Understanding common causes for missed appointments can help you come up with a no-show prevention strategy that works for your practice.
Research into no-shows has found that people may miss appointments because:
They do not understand the importance of the appointment.
There was too much time between scheduling and the date of the appointment.
Wait times in the clinic reduced patient satisfaction.
They had trouble getting there due to transportation, work, or childcare.
Their symptoms seemed to resolve between booking and the appointment.
They simply forgot.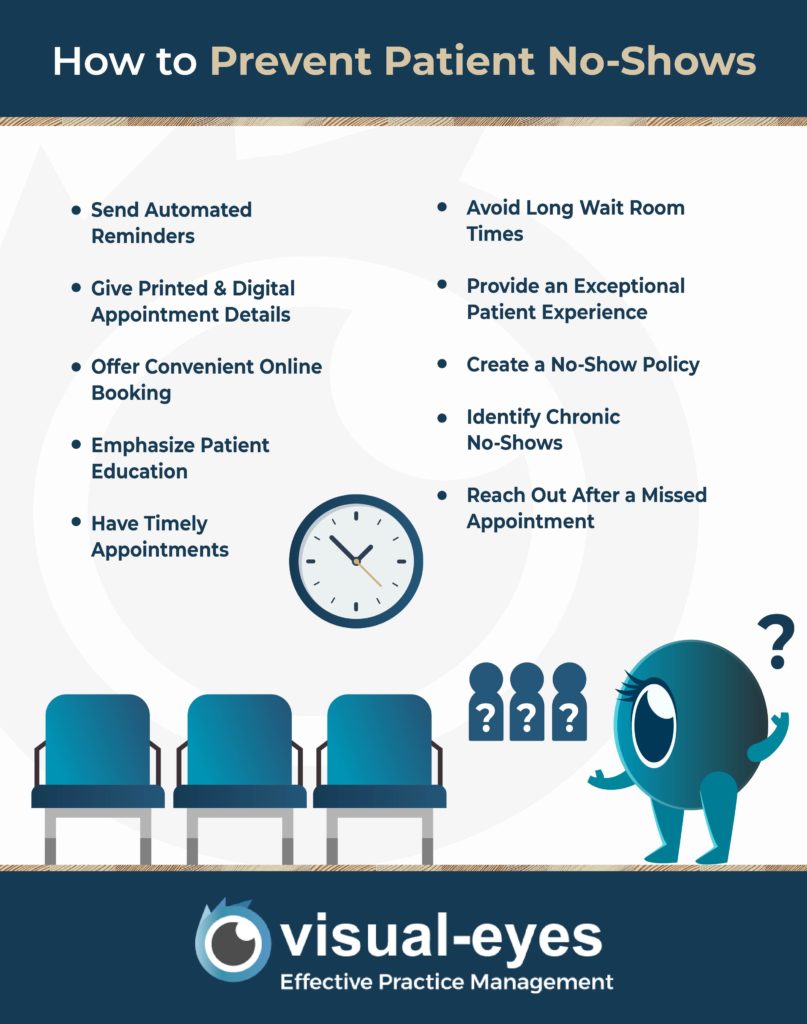 How to Reduce Patient No-Shows in Your Eye Care Practice
Use Automated Reminders
We can all use a little help remembering everything there is to do in a day. By sending automated reminders to your patients ahead of their appointment, you are doing them a favour while freeing your staff from hours spent calling .
Reminders can make a big difference. One survey found that nearly half of healthcare practices that did not send reminders had a no-show rate of 10+%, while only about one-third of practices that used reminders had a comparable rate.
With Visual-Eyes' Visual Connect, you can automatically send email and text message reminders to patients through their preferred communication method. Then, they can confirm their appointment and it will automatically update in the Visual-Eyes scheduler.
Provide Both Printed & Digital Appointment Details
When booking your patient in person, ensure they receive appointment details in two formats: a digital appointment confirmation with a link that makes it easy to integrate into their computer or smartphone calendar, and a handwritten or printed note.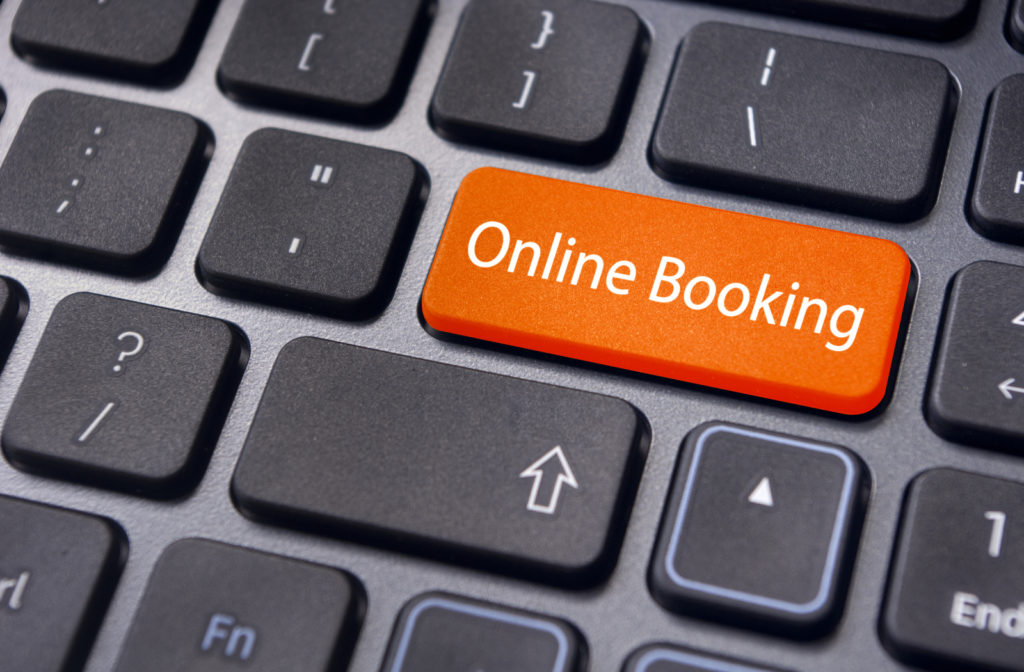 Offer Convenient Online Booking
It is hard to overstate the convenience of online booking for patients. While some patients are comfortable booking over the phone or at your reception desk, others may prefer to coordinate their busy schedules while they are at their own computer.
Using an integrated online scheduler, such as Visual Book, is easy for patients and frees up your administrative staff for other important tasks. Patients can even book directly from their recall email or text message.
Provide Patient Education
A patient who understands the importance of an eye health exam for both their ocular health and day-to-day vision comfort is going to be more motivated to show up to their appointments. Integrate patient education into every appointment.
Be sure to do this in a positive way, such as explaining how an eye exam can catch eye diseases early while they are still easy to manage. Be realistic, but avoid anything that might seem like fear-mongering. Ensure they understand why their doctor has recommended a particular eye health schedule that is customized to their visual needs, risks, and whether they wear glasses or contacts.
Offer Timely Appointments
If a new patient comes calling, but can not see any of your optometrists for weeks, they may book an appointment with you while continuing to shop around for a more convenient appointment elsewhere. In this case, if they do find more timely care with a competitor and neglect to let you know, you have lost a new patient and their appointment slot.
Use Smart Scheduling & Avoid Long Wait Room Times
One study on no-shows found that people considered long wait room times to be disrespectful. Naturally, every patient wants to be treated as an individual, and feeling like part of an assembly line, a slow-moving one at that, will not support that goal.
Use a powerful scheduling software like Visual-Eyes to ensure your practice is properly booked and that each patient is booked for the correct appointment type. Maximize your patient load while minimizing the time your patients spend waiting to see their optometrist.
Provide an Exceptional Patient Experience
When patients have positive feelings about coming to an eye care appointment, they are less likely to skip an appointment due to anxiety or feeling like their time will not be respected. By cultivating a top-notch experience from your website, to your booking process, to clinical care, you are helping defend against no-shows with both first-time and existing patients.
Create a No-Show Policy
It can be helpful to have a prominently displayed no-show policy at reception and on your website. Your policy might include a nominal no-show fee, which may be waived (or not) for a first-time no-show, or it may include the full cost of the missed appointment. By making the policy clear when patients book, you may avoid a future no-show.
Identify Chronic No-Shows
The most likely patient to no-show is one who has failed to show up for a previous appointment. Consider a policy specifically for these patients that helps them get the care they need without negatively impacting your clinic. These strategies might include:
Additional appointment reminders from a live caller.
Offering only same-day or next-day appointments, which tend to be easier for people to keep.
Double-booking their time slot to protect you against lost income.
Reach Out After a Missed Appointment
We all know life happens, so when a patient is late for an appointment, start by calling them directly to check if they are on their way. The tone of this outreach should be compassionate and customer-service oriented rather than accusatory.
After the appointment has been missed, contact the patient right away through their preferred contact method with an offer to reschedule. Again, avoid placing blame or guilt on the patient, which is more likely to drive them to another eye care professional than to get them to their next appointment on time.
Learn More About Visual-Eyes
The Visual-Eyes suite of software helps to reduce no-shows as well as operational inefficiencies, allowing your employees to focus on what is important: your patients. Book a Visual-Eyes demo and learn how this powerful technology can go to work for you and your patients.