Online reviews can shape patients' first impressions of your practice and affect your visibility on Google. Garnering honest feedback from patients is not merely a matter of maintaining online visibility though—reviews also play a crucial role in understanding and effectively addressing patient needs.
Finding the right balance between providing excellent patient care and maintaining your online presence can be a challenge for optometrists—but there are steps you can take to make it easier.
5 strategies you can use to get more reviews include the following:
Use automated follow-up messages
Send out patient feedback surveys
Use a QR code
Connect with patients on social media
Track your patient experiences
As you implement these strategies, optometry practice management software like Visual-Eyes can come in handy with comprehensive solutions and customizable support for patient communication. With the right software by your side, you can spend less time focused on Google's needs and more time with your patients.
How Can You Get More Reviews from Your Patients?
Business owners and optometrists alike know that online reviews can form the foundation of a strong reputation—but getting those reviews can be tricky. When you are trying to get new reviews, it is important to follow 2 basic principles: make it simple for staff and make it easy for patients.
Try some of the following strategies to get started.
1. Use Automated Follow-Ups
Obtaining patient feedback swiftly and efficiently can play a significant role in both your reputation and your ranking on Google. The ideal time to request feedback from patients is within 1 week of their visit.
Through software features like Visual Connect, the probability of missing this crucial window for feedback can be reduced, and the automated system not only helps liberate staff from the tedious task of sending manual requests but also helps provide follow-up messages and feedback requests for patients through their preferred mode of communication, such as texts or emails.
2. Send Out Patient Feedback Surveys
Practice management software can make it feasible to create concise, targeted surveys aimed at gathering specific patient feedback. Direct surveys can also encourage patients to provide feedback and leave reviews on Google and other listing websites, thereby enhancing your online visibility.
Customizable messages offer a unique advantage, allowing practices to tailor their feedback requests. Whether you are focusing on the experiences of new patients, the ongoing experiences of existing patients, or specific treatments and services, there is flexibility to shape the feedback process according to your needs.
Furthermore, incorporating links in emails and follow-up messages can simplify the process for patients, encouraging them to share their experiences and feedback through easy avenues of communication.
3. Use a QR Code
How many times have you scanned a QR code with your smartphone? You can take advantage of that same feature to direct patients toward leaving a review.
Creating a QR code that directs patients to your Google review page can make it easy for patients to quickly leave feedback about their experience. You can include a QR code on your invoices, as well as in physical posters around your waiting room, on business cards, in brochures, or on other displays around your office.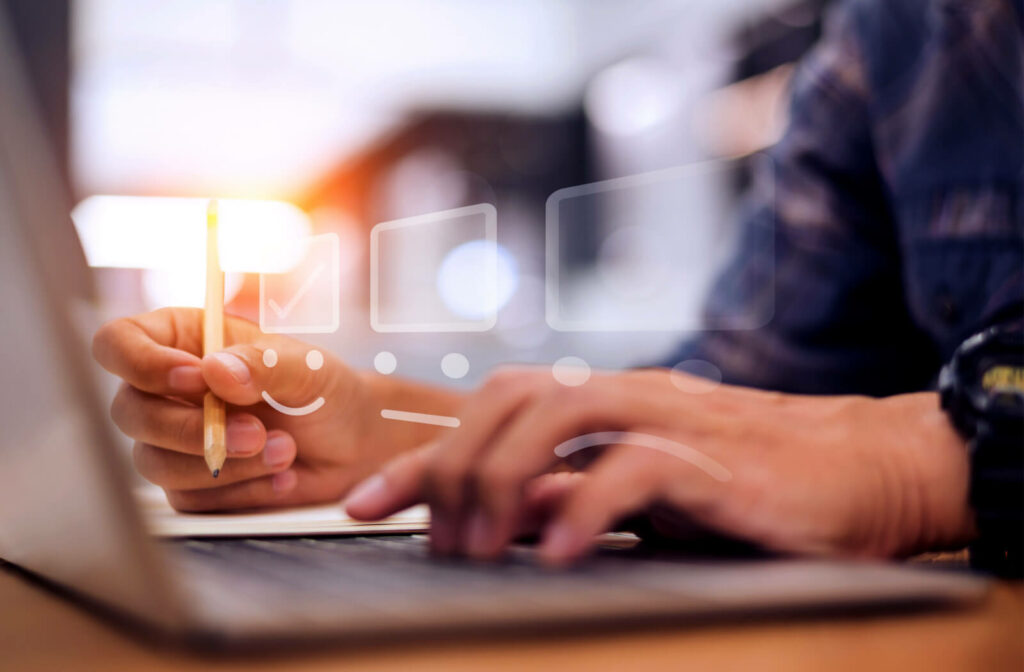 4. Connect with Patients on Social Media
You can also boost online reviews by interacting with clients on social media. This process does not need to take up much of your time. A simple response to a comment or review can prove beneficial—especially powerful if you take the time to respond to negative reviews.
Social media interactions present an opportunity for patients to experience the quality of service you provide and a chance to show your willingness to communicate and interact with patients online, which, in turn, can encourage patients to leave reviews.
5. Track Your Patient Experiences
Understanding the right time to request reviews can be as crucial as knowing how to ask.
The ToDo and Routing module in Visual-Eyes helps track patient experiences down to minute details so you can find an ideal moment to solicit patient reviews and examine other aspects of patient experiences that may benefit from improvement.
By tracking patient experiences, you can compare patient feedback—both positive and negative—directly with their experiences at your office to get valuable insights for refining processes that may be causing dissatisfaction.
Why Are Online Reviews Important?
When was the last time you went somewhere without looking at the reviews first? Almost two-thirds of consumers look at Google reviews before visiting any business. Getting feedback is important for creating a good first impression with those potential patients.
Online reviews affect your visibility on Google search results and features like Google Maps too, so getting reviews and responding to them can be vital for increasing your online visibility.
Managing Your Reputation Can Make a Difference
How people see you online can affect the number of patients who choose to visit you. 94% of online consumers may choose not to visit a business because of negative reviews.
Responding to negative reviews and encouraging satisfied patients to leave positive reviews can help you establish a positive reputation online and encourage more patients to choose your office. Responding to negative reviews can also support your rank on Google.
Online Reviews Affect Your Online Visibility
How do you find businesses and services online?
Over 90% of online traffic comes from Google Search, Google Images, and Google Maps. The number of reviews you have plays a key role in your ability to rank highly on Google, so encouraging patients to leave reviews can help you take advantage of that web traffic.
Feedback Can Improve Patient Experiences
Feedback from patients—both satisfied patients and those with more constructive feedback—can help you better understand what patients experience when they visit you and which areas of your practice could be improved with specialized solutions like Visual-Eyes Software.
Support Your Patients and Staff with Visual-Eyes Software
Visual-Eyes Software offers personalized training to help optometrists, opticians, and their teams reap the benefits of practice management software—as well as providing 24-hour emergency customer support.
We created Visual-Eyes based on the needs of optometrists and opticians, and our goal is to help you worry less about day-to-day tasks like gathering reviews and focus more on providing memorable patient experiences.
Schedule a demo today to experience the unique benefits Visual-Eyes Software can bring to your online reputation, your practice, and your patients.