With well-trained staff and an efficiently run office, positive reviews should pour in, right? Not necessarily. It can take time, but there are a few things you can do to increase your practice's positive reviews.Continue reading to learn 8 ways to increase positive reviews for your optometry practice.
8 Ways to Increase Positive Reviews
Many people read reviews before making a purchase decision, especially when it affects their health. When trying to acquire long-term patients, your reviews can be a great way to get endorsements.
Whether you are just starting out or have been around for years, consider these 8 tips for increasing your practice's positive reviews.
Make It Easy to Do
Regardless of the level of service and treatment you provide, it can be hard to get clients to go out of their way to review your practice. You can not force people to leave reviews, but you can make the process as easy as possible.
Choose a method that suits your needs. You can send a post-appointment email encouraging a review, or hand out business cards featuring links to different review sites. Be direct in your approach, and do not worry if it takes time for the positive reviews to begin trickling in.
Interact With Your Clients on Social Media
Another way you can boost your reviews is by interacting with your clients on social media. There is no need to spend all day speaking with every customer, but responding to comments or reviews can help.
These interactions give clients a taste of your practice's customer service, demonstrating what they can expect during an appointment. Show your clients that you are willing to communicate and interact with them.
Send a Personal Follow Up
Patients want to know you care about them. Consider adding a personalized touch to your practice's communications to help boost positive reviews.
Think about thank you emails or a post-appointment call to see how they are doing. Determine the most effective strategy for your practice's needs.
Clients will likely appreciate you reaching out, and in turn will feel that you are more than a business to them. Adding a personal touch to your practice's overall experience may help you earn more positive reviews.
Share Reviews Where People Can See Them
If you have some good reviews, show them off where others can see them! Make the most of any social platforms you are on, like Facebook, by promoting these reviews. You can even thank the customer directly, making them feel good and showing potential clients how you treat your patients.
Featuring reviews on your website can help anyone interested in your practice see what others think of you. You may also receive more positive reviews if someone knows that theirs will be front and center on your website.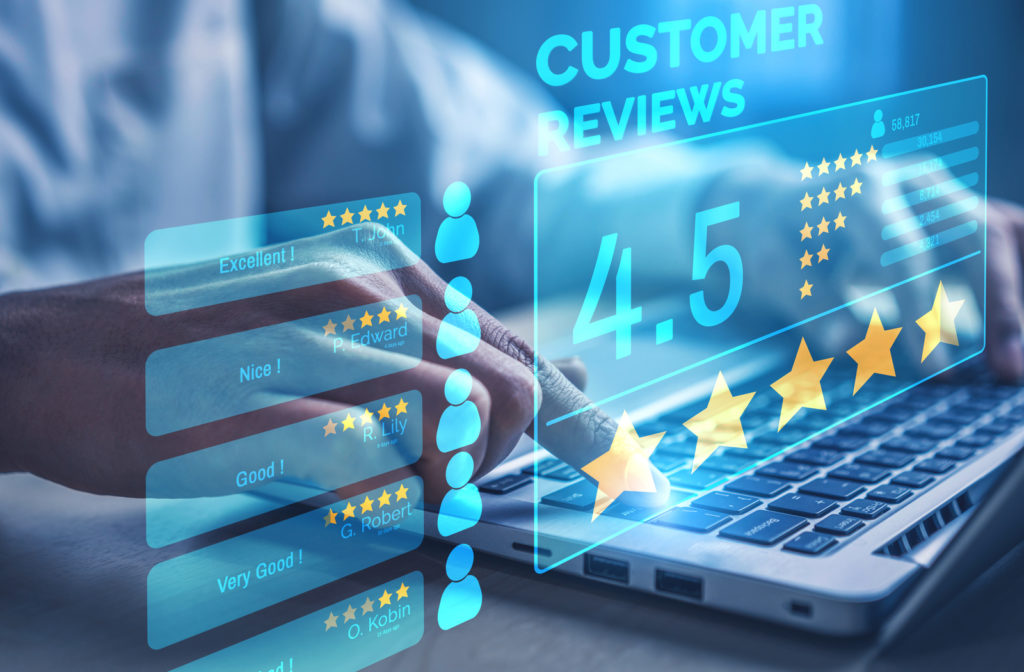 Respond to Reviews, Good & Bad
Responding to good reviews is an effective way to show your clients you care about their feedback and experience at your practice. However, do not avoid your bad reviews, even if they are intimidating.
These reviews are inevitable, and you may feel the urge to leave them there, but addressing them can show potential clients your customer service expertise.
Many online customers expect businesses to respond to their reviews. If someone had a bad experience or misunderstanding, addressing this review may help bring them back. Meanwhile, others may decide to book an eye exam with your practice if they see your customer service in action.
Have Your Reviews in the Right Place
If you want more positive reviews, make sure you are easy to find online. Google is the most relevant platform today; approximately two-thirds of people read Google reviews of a company before visiting their website. With such high statistics, it is therefore important to register your practice as a business with Google.
Not everyone is a fan of Google however, so make sure you are relevant on other platforms including:
Ensure Your Customer Service is the Best It Can Be
Your customers are more likely to write a review about your customer service than your treatments. If you are running behind schedule one day, let patients sitting in the waiting room t know roughly when their appointment will start to uphold your patient care.
Things are unpredictable, but do not let that affect your practice's customer service. Train your employees effectively, and they will take the extra time to make every patient feel cared about. A courteous and helpful business will lead to more positive reviews.
Read Your Reviews & Adapt as Needed
Criticism can be hard to take, no matter how mild or harsh it may be. However, these critiques can help you to improve your business and future reviews. Take the time to read the current reviews your practice has and learn of any areas that can be worked on. You will not know if changes are needed if you do not know what your clients are saying.
Elevate Your Practice's Reception
With these tips, you can help your practice gain more positive reviews; but remember you are not on this journey alone. Reach out to learn more about how we can streamline your practice to improve your customer's experience and get those reviews!