If your practice relies solely on manual data entry, there are bound to be human errors. These errors can be costly and make a severe impact on your practice.
Whether you are entering data for an invoice or a schedule, it is crucial to limit the number of data errors that occur. Taking the proper steps to avoid these errors in your eye care practice can help limit confusion and frustration.
The Danger of Data Entry Errors
As an eye care practice, you try to provide patients with the best treatment and experience possible. Although they may seem minimal to some, data errors can be detrimental to your patients and your practice.
In Canada, medical errors account for 28,000 deaths per year. While not all of these errors are related to incorrect data entry, it is part of the problem. If your eye care practice enters data incorrectly, you are potentially putting your patients' health at risk.
In addition, these errors could be costly for your practice. In healthcare, roughly 38% of costs fall into administrative overhead. Data errors create extra work for your administrative team to find and fix, wasting valuable time and money.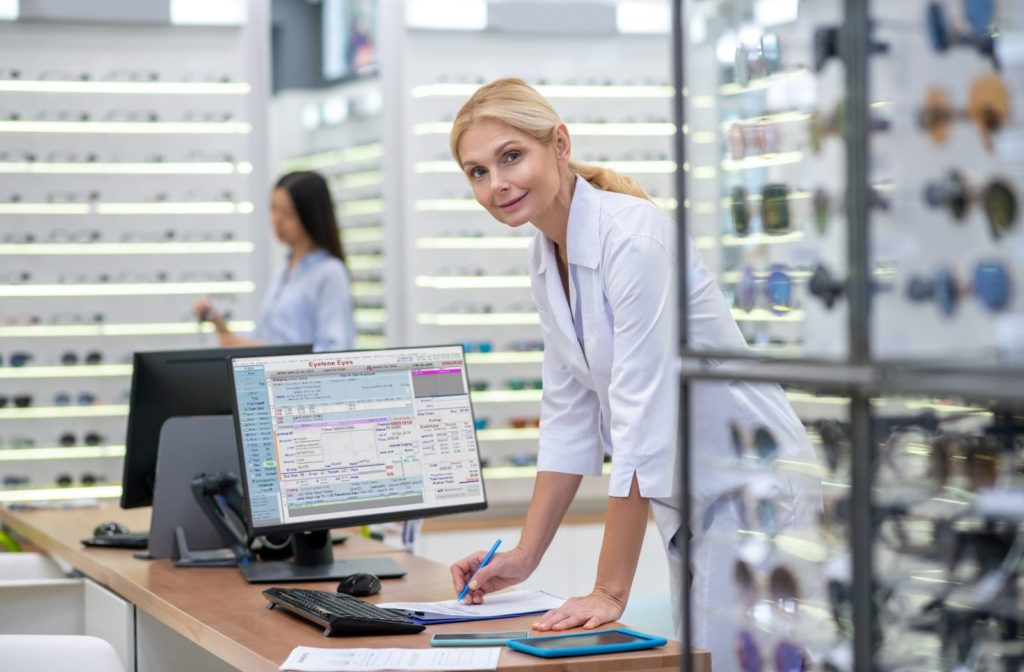 How to Avoid Data Entry Errors
Even if your practice is not dealing with a significant number of data entry errors, it is important to have safeguards in place to ensure they are avoided. Implementing the techniques below can help your practice maintain great service and save you money on administrative costs.
Proper Employee Training
Training your team should be your first priority. Whether you have hired a new employee or the whole office has transitioned to a new software, proper training is crucial for reducing errors.
At Visual-Eyes, we offer the following comprehensive training for your employees:
Customized help based on your unique needs
On-site & remote training
Computer & hardware advice
Professional backup & network security recommendations
Flow & efficiency auditing
Practice layout & renovation consultations
In addition to proper training, it is also important to hire sufficient staff for data entry. A stressed, overworked employee is much more likely to make errors.
Leveraging Software Tools
Technology has transformed the eye care industry. From innovative tests to new forms of treatment, your practice has never been able to better serve patients. Furthermore, this technology now extends beyond tests and treatment.
With the examination module, your practice has the ability to automate your data entry process, eliminating potential human errors. Visual-Eyes is highly customizable and is designed to serve the needs of your practice.
The examination module offers the following features:
Import results from testing equipment
Auto-generate letters & orders
Order data inputs to match your exam flow
Access to historical data
Quick data entry
Interested in learning more about how the examination module can benefit your practice? Give us a call or book a demo.
Identify Frequent Errors
If your practice is dealing with frequent data errors (or errors at all for that matter), they must be identified. Understanding why these errors are occurring is the first step in putting a stop to them.
Once your practice understands the errors, you can put stronger standards in place for your data entry process. This could include implementing a new procedure or reviewing a process.
If your practice is entering data manually and it is continuously filled with errors, it may be time to consider upgrading your system to better support your team. With the software that is currently in the market, you could save your practice and patients from the potential risks associated with data entry errors.
Steering Clear of Data Errors
The risks associated with data entry errors are significant and should not be underestimated. These errors can severely impact the health of your patients and their experience at your practice.
Data entry errors should not be thought of as something that can be resolved after the fact, proactive steps need to be taken to prevent them.
With the growth of technology in the eye care industry, your practice has easy access to software that is designed to limit these errors. After all, software is an investment to improve your data entry process, saving you time and money in the long run.
Interested in learning more about how your practice can avoid data entry errors? Give us a call or book a demo today.